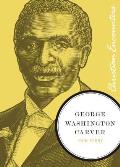 A small man with a big heart. George Washington Carver was an small, unassuming man who had big dreams, big thoughts and the drive to bring them to fruition. Yes, he had a lot to do with multiple uses for the peanut. But he was so much more than the "peanut man". His life is a testimony to hard work, diligence, loyalty, friendship, encouragement and so much more. This story will inspire you to go beyond the ordinary and look to God for a great purpose in your life. My 11 year old son devoured the book and was amazed at George's accomplishments.
"George Washington Carver"
should be read by everyone, of every age.