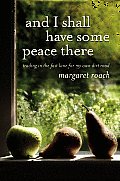 The cover of this
book
requires that you pick it up it's so beautiful and peaceful. The subtitle "trading in the fast lane for my own dirt road" was intriguing enough to cause me to toss it into my library bag and take it home. I love to read about people who have changed course dramatically in their lives, based on changing life values or re-evaluation of their lives or perhaps just finally getting to what they've always wanted to do in the first place.
This is a non-fiction book. So Margaret's introspective journey to finally leaving a well-paying, prestigious career working under Martha Stewart is particularly meaningful. And Margaret is touchingly honest. We hear the good and the bad. Warts and all, she doesn't hold anything back. It's like she took her journal and fleshed it out.
I enjoyed being alongside as she made the important decisions; I enjoyed her descriptions of the plant and animal life in her new habitat. I'm encouraged that she made this big step and is being successful at it. In fact, you can read an ongoing discussion at her blog "
A way to garden
".
A favourite quote from the book is Martha Stewart's motto "learn something new every day". Easy to do when you read a lot. :)