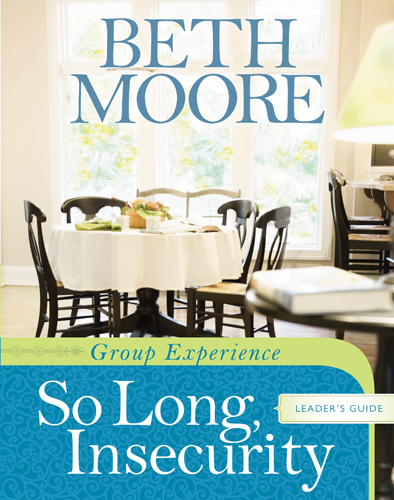 "So Long, Insecurity - Group Experience"
is a leaders guide to the book
"So Long, Insecurity"
by Beth Moore. There are 10 weeks of study and an introduction included. The introduction has suggestions for leaders as per time frame, getting through the material, tone of the group and dealing with problems. Each weeks lesson includes a warm-up, word from Beth, digging in (which has questions), in the light of the Word, wrap-up and on-your-own activities for participants to do. In the sidebar there are "before you meet" assignments as to the chapters to read for the following session and a few thought-provoking questions to think about while reading.
I haven't read the book this quide is based on , but am intrigued to search it out. As a linear person this guide was very comfortable to navigate. I could see myself using it in either a group situation or even on my own, although a group would definitely be more advantageous as more points of view would be raised. I would recommend this study to any women's bible study group or several friends who want to get to know one another better and help each other grow.
I received a complimentary copy of the book for review purposes from Tyndale House.