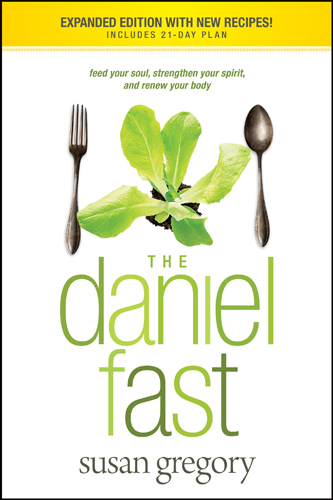 What comes to mind when you think of a fast? If you're like me, you think of not eating for a period of time.
The Daniel Fast
is something different. It is eating as Daniel (of the Holy Bible fame) ate while in exile in Babylon. He was being trained to serve in the royal palace. All the young men chosen were given a daily ration of food and wine from the king's kitchen. Daniel and his three friends felt this food would defile them (pork? Wine?). In any case, they asked for permission to eat only vegetables and water for a trial period of 10 days. At the end of the time they were evaluated and found to be healthier and better nourished than the other men who had eaten the more rich food. So the vegetable diet continued, supposedly for the duration of the three year training time. Susan Gregory contends that by following a similar eating plan and focusing on your spiritual life and prayer life during a set time, you can become closer to God.
The book is very well laid out. The first few chapters deal with the whole idea of fasting – what it is and isn't. She talks about why and how to fast in the Daniel manner. A whole chapter is devoted to the background of Daniel and his experience in Babylon. Chapter four focuses on the spiritual aspects of the fast. Chapter five helps you plan and prepare. The rest of the book covers the foods you can and can't eat, recipes, a 21 day menu plan and 21 day devotional. All in all, everything you need to pull off the fast.
In case the book itself isn't enough, there is also a website with further information and support, a blog, and other resources. I ended up ordering the digital devotional/journal for a nominal price.
In order to fully give an opinion of the Daniel Fast I decided to give it a 10 day try. Here are my observations:
1. I found the devotional and journaling to be most valuable "take away" of the fast.
2. I struggled with Gregory's assertations that this was such a healthy diet. Coming from a paleo perspective, statements saying that a vegan diet is most healthy go against what I believe.
3. Through the online experience I seemed to see a big emphasis on making good tasting food. To me, this takes away from the point of the fast, which is to be making a sacrifice. To Susan's credit I did read something of hers that clarified that an emphasis on food was to be avoided.
4. All processed food was to be cut out. Tofu was allowed. I couldn't see the rationale with that.
5. It was hard to maintain the vegetables only diet while continuing to feed a family. I couldn't expect them to eat what I wanted to.
6. Almost the first day of the fast I was confronted with communion. The bread and the juice were not on the accepted list. However, I decided that God would not look unfavourably on me for taking communion and went ahead with it.
7. There seemed to be a following that was especially interested in the weight loss factor of the diet. Again, I think that this distracts from the spiritual connection you are hoping to make. (did I lose weight you ask? I refused to check 'cause this wasn't my point)
Bottom line? If you are interested in exploring the spiritual disciplines this might be a good place to start. There is lots of support and the book makes easy reading and is a great guideline to follow. No matter how long you choose to "fast" you will probably end up taking some forward steps in your spiritual life.
I was given this book to review for Tyndale House Publishers.