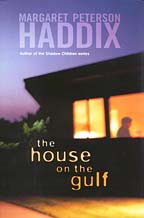 Having read Haddix's "Shadow Children" series and enjoyed them, I picked up
"The House on the Gulf"
off the library display shelf. It's a Young Adult fiction novel about a sister, brother and single mother who find an unusual way to make ends meet one summer when the mother is going to summer school. What looks like a simple house-sitting situation rapidly gets more suspenseful as a number of scenarios play out that just don't make sense to the sleuthing younger sister. This was an easy read that kept me thinking. The morals were good and the message of family togetherness was hopeful. The sister displayed resourcefulness in getting a part-time job and the older brother suffered consequences for his lying.